taste 174km
Here's a look at Canoe's latest vibrant tasting menu, featuring the best of Ontario summer produce.
We're at the peak of produce heaven in Ontario.
One of my favourite things about summer is the incredible bounty of fresh fruits and vegetables. I love strolling through farmer's markets and seeing the bright colours of the season in the beautiful local ingredients. Naturally, I imagine all the endless possibilities of what I could cook and my excitement turns wistful for a garden of my own. Alas, such is the life of a Toronto urbanite.
Executive Chef John Horne and Chef de Cuisine Coulson Armstrong were similarly inspired when they created Taste 174km, the latest tasting menu at Canoe. 174km references the furthest distance the ingredients from the tasting menu are sourced from. "I wanted to create a tasting menu with the best of Ontario ingredients, so we called all the farms we could and asked them what their best ingredients were. From there, we started to create the menu," said Chef John.
Here's a look at the vibrant Taste 174km dishes and what Chef John had to say about each of them.
chilled corn soup – cornbread, queso fresco, soy oil + crispy pancetta: "We wanted to make a cold soup because the weather has been so hot. Corn is at its best right now."
artichokes + onions – fried artichokes, variations of onions + organic egg: "Artichokes and onions were always the last two things farmers mentioned when we asked them what they had. Because they were always such a second thought for farmers, I wanted to take ingredients that were being so overlooked and highlight them.  The onion is done seven different ways and the artichoke is done three different ways.  This was by far, the most conceptual dish we came up with – the amount of lists we had was insane."
great lakes walleye – summer squash, brown butter pipérade + Alliston potato: "I learned how to make pipérade in the south of France and everything in it is in season right now. For the potatoes, I wanted to make an elevated version of shore lunch potatoes. In northern Ontario, shore lunch is a tradition when you go fishing. We decided to shape the shore lunch potatoes into gnocchi. The summer squash is from Tamarack Farm."
pasture raised pork – spiced peaches, Swiss chard, verjus + bacon hominy croquette: "The pork is from Grandview Farms and is paired with summer spiced Niagara peaches. We wanted to use a grain for the croquettes so we went with hominy, which is starchy and holds firmly."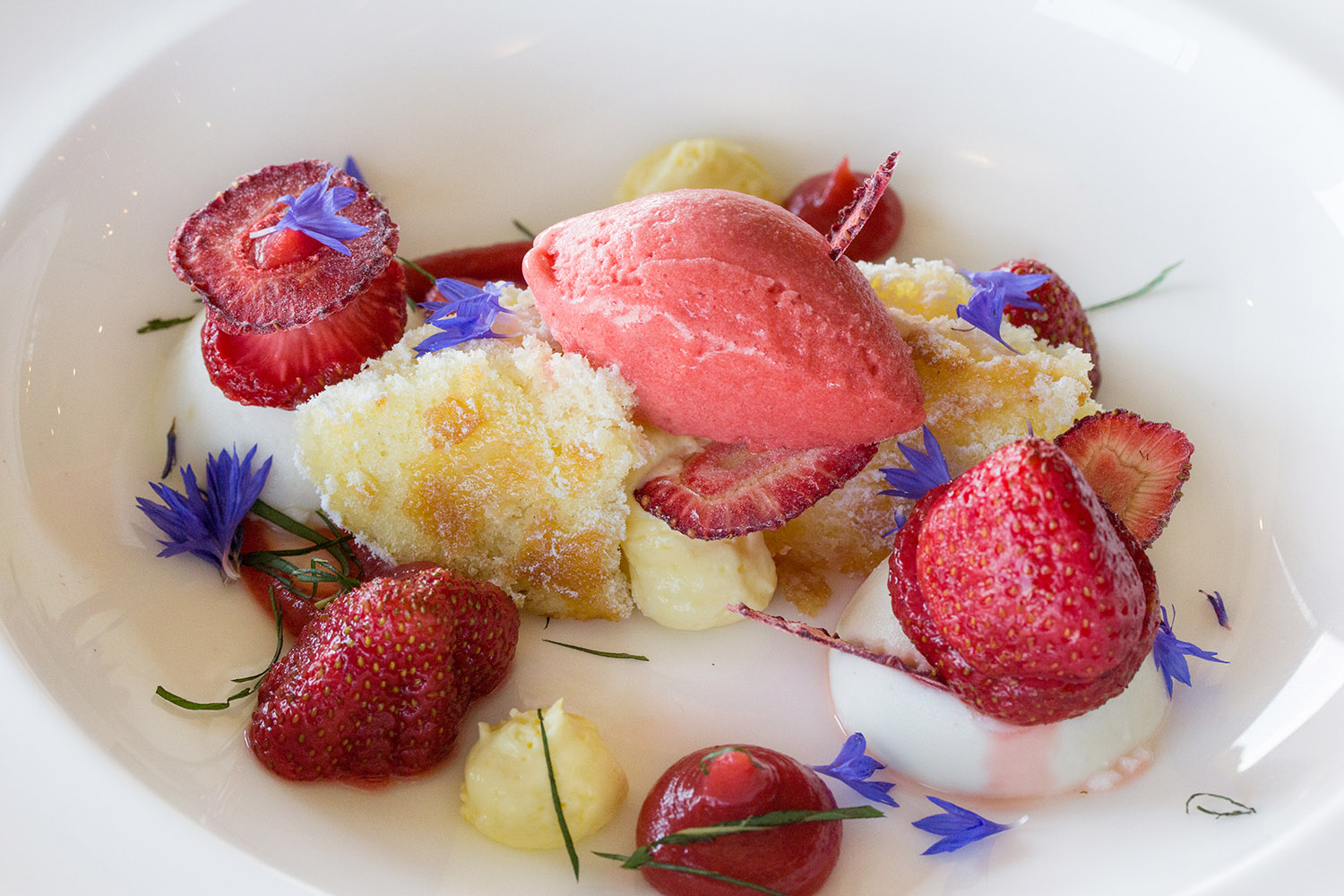 everbearing strawberry – Hewitt's Dairy yoghurt bavaroise, vanilla chiffon, mint + yuzu: "You can call this Canoe's version of strawberry shortcake. We use everbearing strawberries, which grow from the beginning of summer to the end of frost.